"In any job that must be done, there is an element of fun." -Mary Poppins
It can be a tough reminder sometimes. Talk to any teacher after a long day at school who is sitting through a staff meeting that could have been an email. But if and when it is ever possible to up the fun factor at school, I say go for it! Especially if it has a direct positive effect on student learning. Jenga game cards are easily my favorite way to spice up any otherwise common task, such as basic math fact or grammar practice.  No matter the season, winter, spring, summer or fall, learning can be fun!
Jenga Game Cards
Kids hear the word "game" and eyes that may have been glazed over seconds earlier suddenly pop open wider. As far as games go, Jenga is always one of the biggest crowd-pleasers in my class. Students have so much fun during this center that they don't even realize how hard their brains are working.
The blocks that I use in my classroom can be found right here on Amazon.  I had a traditional Jenga set when I was a kid, but I especially love how colorful this newer one is!
How to Play Jenga in the Classroom
The game can be played in partners or a small group. Students set up the Jenga blocks in a tower. Each kid gets an answer sheet and the group shares a set of game cards, which contain problems or questions. They sort the cards by color and put them into separate piles.
When it's a student's turn, he or she rolls the dice. For whichever color is rolled, a card is selected with that color.
The problem is read aloud to the group, and everyone in the group solves the problem and records their answer on their answer sheets. Students can show their work using their squares on their answer sheets, or if they need more room I have them use their white boards.
Students compare their answers. The student who rolled the dice then gets to move a Jenga block that matches the color of their card. This is their favorite part, of course.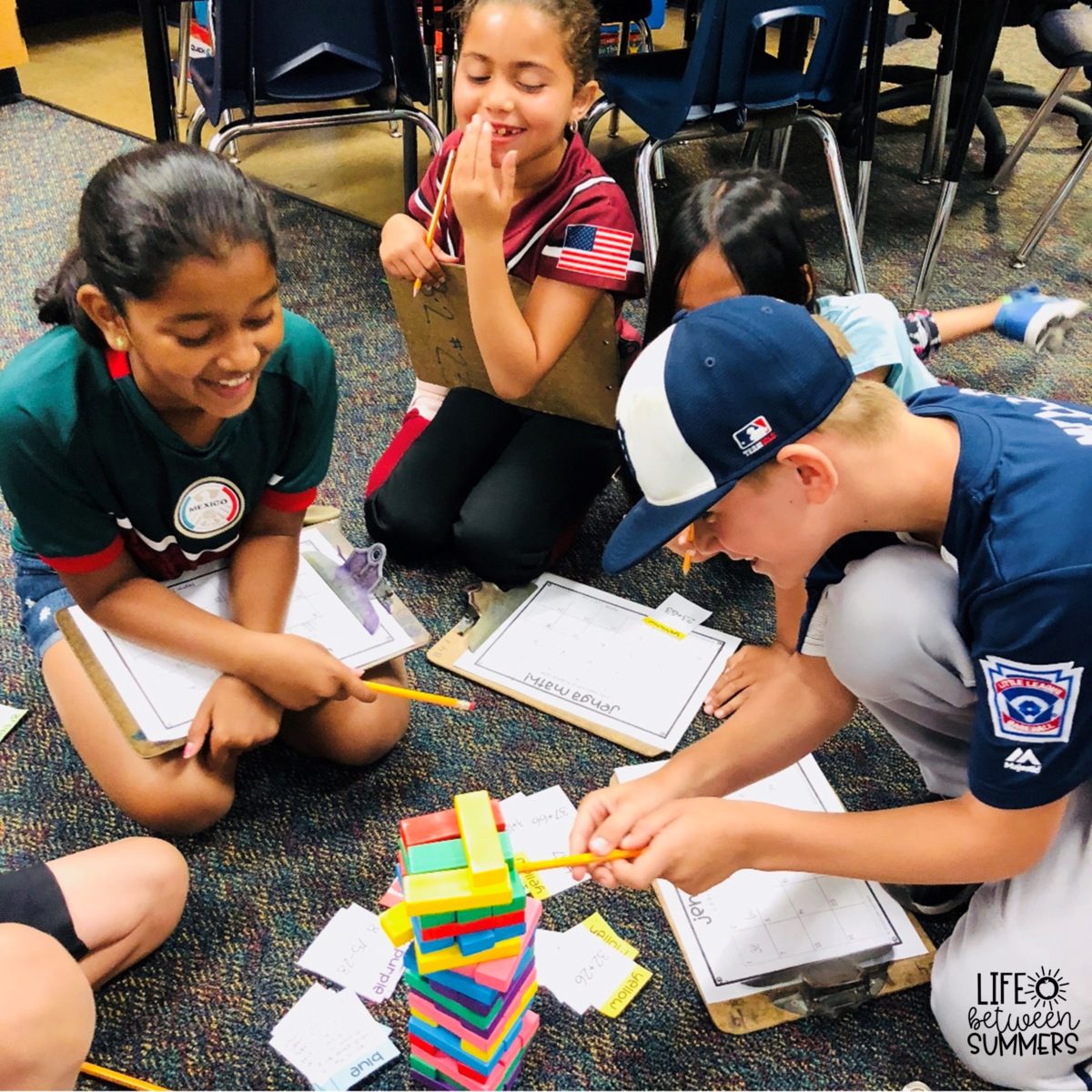 They keep taking turns until the tower falls. If it falls, the kids have to rebuild and start again.
All of the Jenga resources shared in this blog post can be found by searching "Jenga" in my Teachers Pay Teachers store. You can also find them directly by clicking on any of the links below. Here are some of the most popular math game sets that are currently available in the Life Between Summers shop (individually or in discounted bundles).
Math Jenga game cards
Subtraction 0-20 with Ten Frames
Balancing Addition and Subtraction Equations
Adding and Subtracting Multiples of 10
2 Digit Addition & Subtraction
3 Digit Addition & Subtraction
Phonics Jenga Games
I've also started creating some Jenga game sets for language arts skills like the alphabet, reading, grammar and spelling. Just like the math games, all games can be purchased individually or in discounted bundles.
Alphabet (letter/sound recognition and printing practice)
Beginning & Ending Consonant Blends
Grammar Jenga games
Parts of Speech (Nouns, Verbs, & Adjectives)
Sight Word Jenga games
Jenga is also perfect for sight word practice! You can find game bundles for all of the major sight word lists below:
Fountas and Pinnell Sight/High Frequency Words Bundle
Sight Words Bundle by Grade Level
Jenga Game Cards: Benchmark Advance High Frequency Words Bundle
Holiday and Seasonal Math & ELA games
Kids also LOVE Jenga games that are themed for special times of year! They make Jenga lots of fun all year round, and are perfect for classroom holiday parties if you do center rotations. These sets come individually or in  bundles too.
"FALL"ing Jenga!" Autumn themed
"Jenga Bells, Jenga Bells!" Winter & Holiday themed
"All You Need is Jenga" Valentine's Day themed
"Lucky Jenga" St. Patrick's Day themed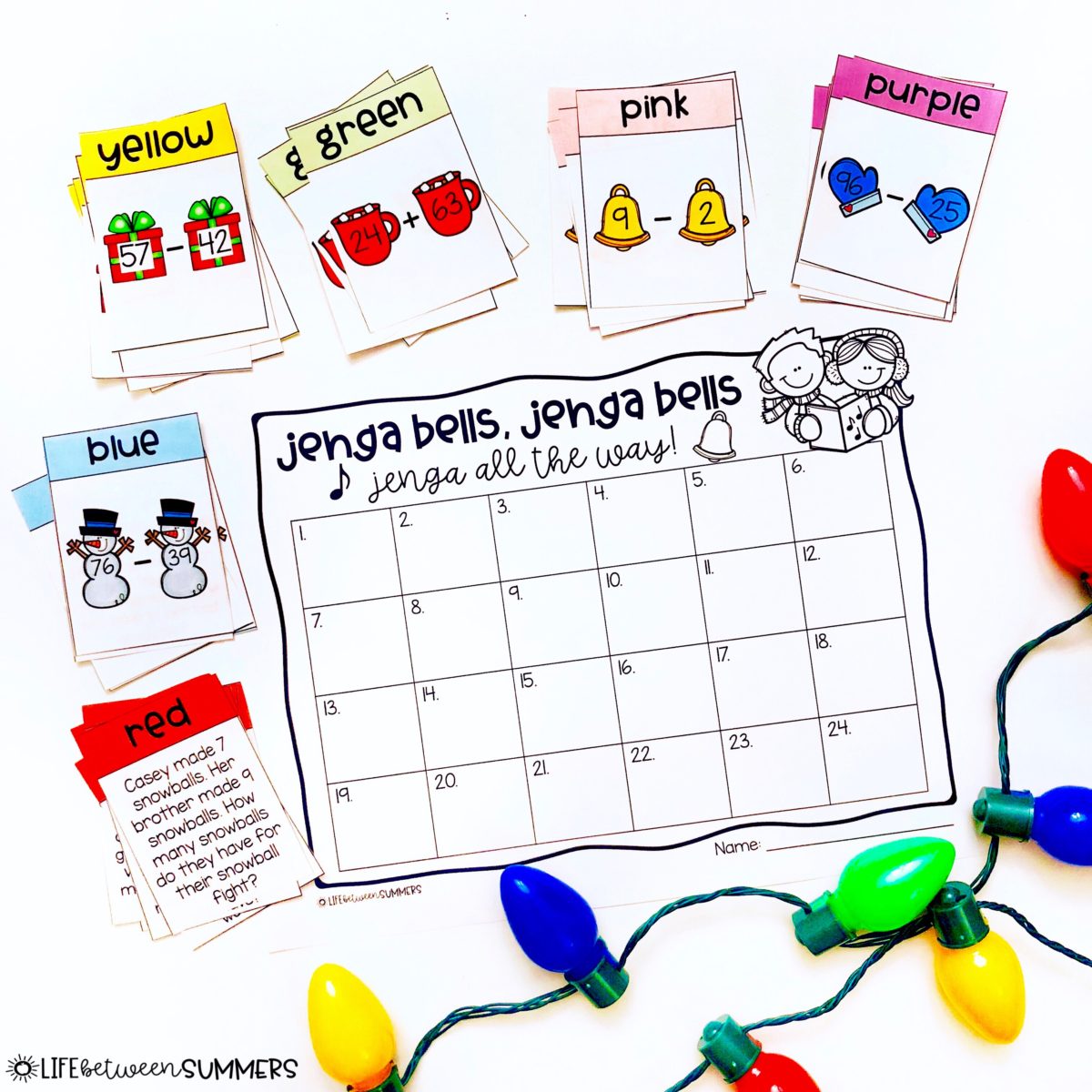 Back to School and End of the Year games have questions for students to get to know each other at the beginning of the year, and then to reflect back on memories of the school year. A whole year of Jenga coming full circle!

Customize Jenga Game Cards
If you want to customize the game cards to meet the needs of your own students/grade level, there is also an EDITABLE version available. It comes with student answer sheets for math, reading, science, and social studies, as well as editable answer sheets that you can customize with your own title for any skill or subject. These editable versions are also available in Spanish and French– perfect for dual immersion classes!
Storage for Jenga Game Sets
I use this Recollections Color Photo & Craft Keeper (sold on Amazon or at Michaels) to help keep my different Jenga game sets nice and organized. You can snag the labels for FREE right here and they can be printed on full sheets of sticker paper.
Savings on Jenga Game Resources
Since Jenga is such a hit with students, I will be continually adding more game sets. Whenever I add new Jenga games to my TpT store, they are 50% off for the first 24 hours! If you want to get to see when new games are added and have the chance to earn lots of savings, you can click to follow my TpT store.
If you purchase any of my Jenga Growing Bundles, you'll also have free access to game sets that I'll be adding in the future- at the current price! The price will go up as I add more sets, so best to lock it down now if you're thinking that Jenga is going to be a staple in your classroom. Here are the two main bundles for language arts:
And here are the available growing bundles for math. I currently have ones for kindergarten, 1st, 2nd, and 3rd grade. The MEGA growing bundles include the holiday/seasonal games and the regular bundles do not.
Kindergarten Math Growing Bundle
First Grade Math Growing Bundle
First Grade Math MEGA Growing Bundle
Second Grade Math Growing Bundle
Second Grade Math MEGA Growing Bundle
Third Grade Math Growing Bundle
And if you're interested in additional ideas for engaging math practice based on classic games, you may also like my "Guess Who?" cards for number sense and place value.
Here's to having fun this school year! Just like the great Mary Poppins says…"You find the fun, and snap! The job's a game."