Telling time is one of those double-edged sword math concepts. On one hand (pun intended), it can be a lot of fun to teach! On the other hand, it can also be very tricky for many students to grasp. Even after you've taught it, chances are you will still need a variety of strategies to reach and re-teach your many different types of learners. Here are a few engaging, hands-on activities for kids to practice telling time.
1. Clocks by the Cup
This one's a helpful visual for students who may have trouble understanding that each number of the clock represents a different number of minutes. It's also great for those who need additional practice with counting by 5's around the clock.
It's an idea originally inspired by a photo I saw from @meleklerimle_etkinlikler on Instagram, where clear plastic water cups were used on a DIY clock. I thought the use of cups was a brilliant way to simultaneously show what the numbers on a clock mean.
Instead of regular sized cups though, I used miniature cups that I found at Target. You can find similar ones on Amazon. (I linked the cheapest option that came up).
Being the dipping sauce lover that I am (anyone else besides me ask for about 5 different ones when they go to Chick-fil-A?) I figured I'd get use out of the leftover cups at home. I also preferred these mini cups because with their smaller size, I was able to fit the clock on a cut piece of 18×24 construction paper, rather than have to use larger poster board or something of the like.
As a math center or in small groups, you could start with having students match the cup on top of each number of minutes it corresponds to.
Provide cards that have digital times on them, and students can move the hands on the "cup clock" to show the time. For the minute and hour hand, I recommend using something sturdier like cardstock or cardboard so that they hold up better when kids move the hands.
The clock and cards would be super easy to recreate on your own by just hand writing the numbers and times with a marker. But for anyone who might like the same template and digital time cards pictured above, I'm happy to email them to you for free (along with another resource I'll share below)! Click here if you'd like to have them sent to you. What's nice is that the digital time cards could also be repurposed for other telling time activities, including #2 here on my list!
2. SpringTIME flowers
A good old craftivity is always another hands-on way to practice telling time. Since telling time is often taught right around the spring, here is a seasonal one that students enjoy. It also gives them an opportunity to practice saying the time using language such as half past, quarter past/quarter to, noon, ___ minutes after ____, etc.
It makes for a lovely spring bulletin board too!
Students could choose their own time for the flower, or you could assign them a time (an easy way is to just give everyone one of the digital time cards from the "Cup Clock" freebie above). This way, you could also intentionally differentiate if needed. For example, you might give certain students times with "o'clock" and others with "quarter to," depending on their levels or what they need the most practice with. And the kids don't even have to know about it, let them think everyone got a random card.
The flower template and a couple options for bulletin board letters are available here in my shop and also on TPT.
3. Rock Around the Clock
You know that catchy oldies song? Keep a tab open on your computer with the song on pause, ready to press play at random times throughout the day. Tell your students that whenever they hear the song play, that's their cue to look at the real clock you have displayed in your classroom. They then jot down what time it is, in digital time. You could have them do this on a white board or in a notebook, or another idea is to use this FREE "Rock Around the Clock" recording sheet. This strip could be kept somewhere easily accessible, like inside a math folder or even taped on top of their desks.
You might also choose to have them indicate if it's AM or PM at the time they hear the song play.
Once they've had a chance to record the time, you could have them share/confirm their answer with a partner or the whole group. It's a super fast way to squeeze in repeated practice, and it can also help provide a tiny "break" during any longer activities during the day where kids might need just a quick change of pace.
If you'd like me to email these to you (along with the "cup clocks" resource above), just click here!
4. Telling Time Games
Games are a fantastic way for students to get the continued practice they need with telling time. They can play them during math centers, and they're an ideal option for students who finish their work early. These are two games I've often used with my own classes and that students are always most excited to play:
It's Jenga time!
Jenga can be played with a partner or a small group…I've found that kids even like to play it independently if they're the only one done with their work. A student rolls the color dice and chooses a card for that color. All players solve the problem on the card and record their answer on their recording sheets.
The student who rolled the dice gets to then move a matching color block, trying not to let the tower fall. Kids LOVE this game and it keeps them super engaged. As they play, they are able to get practice with telling time to the hour, half hour, quarter hour, and five minutes, as well as equivalent times and elapsed time.
Click below for game cards that are aligned for first grade and second grade. Both game sets can also be found in my TPT store.
Telling Time Jenga- First Grade
Telling Time Jenga- Second Grade
If you're loving the idea of Jenga in the classroom, you can also find more Jenga games for tons of skills and subjects in another blog post.
Guess What Time It Is?
Another fun game for math centers or early finishers is a telling time version of the classic board game Guess Who? This one is especially great for enrichment and your students who may need more of a challenge. It's played very similarly to the original game, except instead of using the process of elimination to guess the mystery person, students guess what mystery clock their opponent has.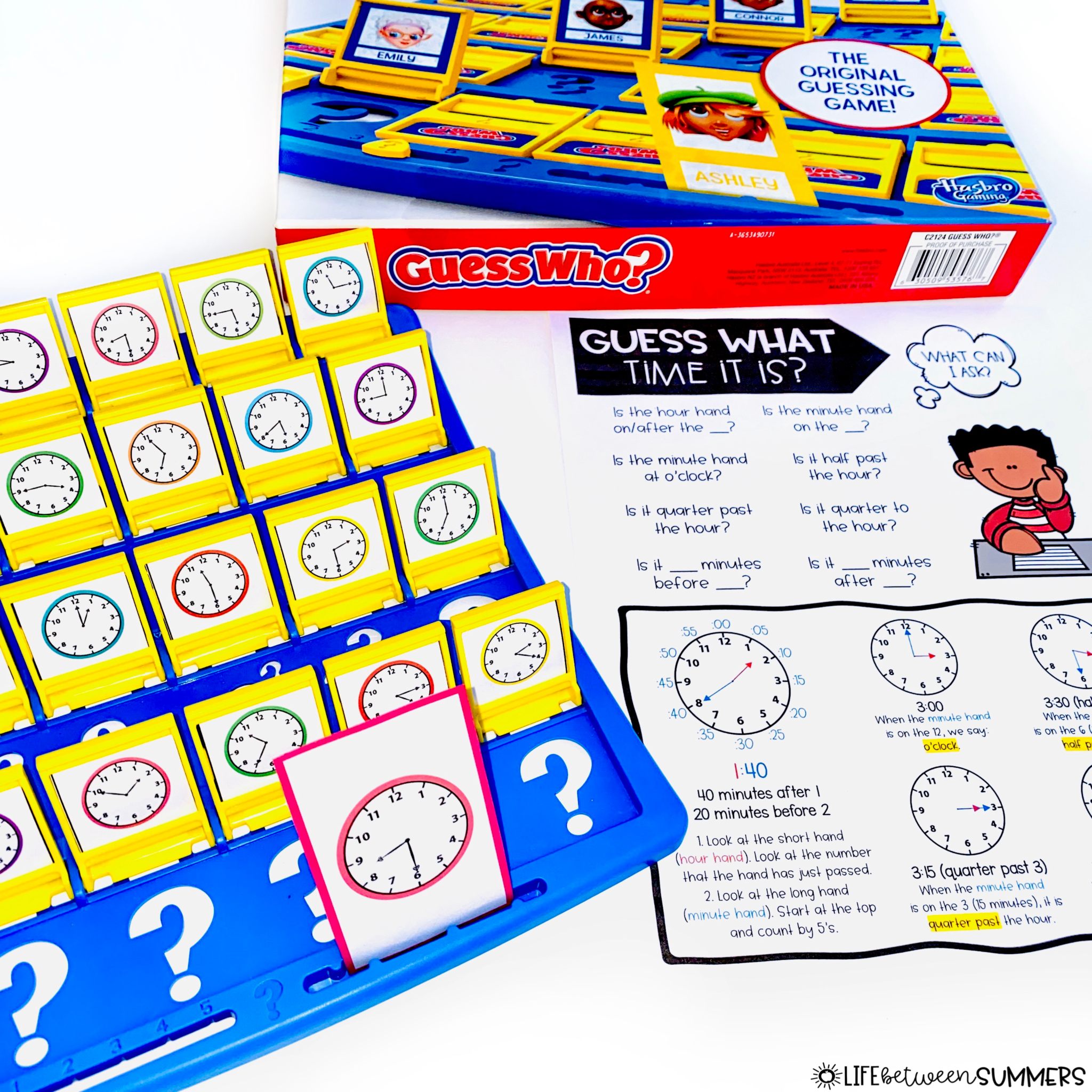 What I love about this game is that it incorporates so many skills at once. Not only are students getting the telling time practice, but they are also strengthening their math vocabulary as well as their speaking, listening, and reasoning skills. Plus, they are so focused and engaged that they don't even realize all the math they are doing!
You can click here to find the game in my shop, and click here to find it on TPT. And if you're interested in Guess Who games for additional math skills (like place value, counting money, etc.) make sure to check out this blog post.
5. Class Timeline
This is one of my favorite telling activities, and that's because it helps students make real life connections. Think about your daily schedule at school, and on the board, list some key daily events and the times that they occur (for example, what time you do math each day, what time recess is at, etc.). Try to list enough events for every two kids in your class, because this works best in partners.
You can assign each set of partners an event, or let them choose. I usually use equity sticks with student numbers on them and have them take turns choosing that way.
Once events have been assigned to partners, they are given the task of creating a clock that shows the time for that event. You can use any sort of paper clock template for this. I like to have them glue the template onto a paper plate to give it a 3D effect.
I also provide a large 18×24 piece of construction paper for them to write a sentence and draw an illustration to match. They enjoy working together with their partners on this.
Once all the work is complete, it makes for a great bulletin board! And if anyone ever asks you when it's time for recess, you can tell them to go look at the timeline 😉
I hope you've found something helpful here that you can add to your ever-growing bag of teaching ideas. What are some of your own favorite telling time activities?
Until next time…(once again, pun intended)!