Description
CURRENT SHIPPING INFORMATION: *If you are concerned about receiving your bracelets in time for your last day of school, please specify your need-by date by leaving a message in the "Note" section at checkout and we'll prioritize your shipment. Otherwise, bracelets will be shipped as soon as possible- up to 4 weeks maximum from date of purchase.*
Would you like the "Welcome" version of these same bracelets for back to school time? Click here for details.
I am excited to have partnered with a kindergarten teacher who makes these Our Class is a Family farewell bracelets! They are the perfect addition to pair with the read aloud at the end of the school year. Give them to your students as a special end of the year gift!
These are a total time-saver too…NO PREP! All bracelets come pre-packaged, ready to hand out to your students. Simply choose ones to match your grade level (Pre-K, TK, and grades K-5 available).
Teacher bracelets are also available- they match with the student bracelets (saying the grade level) but come in a longer length.
Each individual package includes 1 beaded grade level bracelet, the Our Class is a Family farewell tag, and plastic gift wrap. Shipping is free, and all packages are shipped by the maker of the bracelets, Emily Budz.
Colors may vary slightly based on bead supply. Bracelet sizes by length:
Pre-K: 5 inches
TK: 5 inches
K-2: 5.5 inches
3-5: 6 inches
Adult/Teacher bracelet: 7.5 inches
How to place your order:
Before checking out, please indicate the quantity next to the "Add to Cart" button above, and select which grade level from the dropdown menu.
If you need to order multiple grade levels or additional teacher bracelets, add multiple quantities of each as needed.
PLEASE NOTE:
-If you purchase any copies of books along with your order, books and bracelets will ship separately. Books are shipped by me (Shannon Olsen), and bracelets are shipped by Emily.
-Limited stock is available. To ensure that you are able to place an order, we recommend putting one in ASAP.
-Due to the high volume of orders, all tags are pre-made and we are unable to do customizations at this time. We appreciate your understanding!
Hope you & your class family love them!
Want to add discounted books to your order? 
A Letter From Your Teacher: On the First Day of School
A Letter From Your Teacher: On the Last Day of School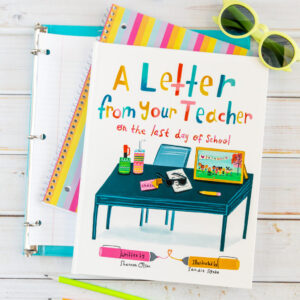 Book Bundle of all 4 hardcover books (BEST VALUE!)