Description
I am happy to announce that I am now offering Author Visits, both virtual and in-person! I'd absolutely love to meet with you and your students to talk all about the writing and illustration process for Our Class is a Family, A Letter From Your Teacher, and Our School is a Family, as well as do some class community building. These visits are best geared for K-3.
VIRTUAL VISITS:
I can do a live virtual visit with a class or grade level located anywhere in the U.S.! For international virtual visits, please reach out to me via email at [email protected].
If you are interested in booking a visit for multiple grade levels at your school (for example, a visit for all K-3 classes) please do not book through the calendar above. If you can instead please click here to fill out an interest form, and I'll look forward to contacting you via email.
What you will get from your virtual visit:
-A 50 minute virtual presentation via Zoom, including time for interactive community building and Q&A with students
-An exclusive rate on paperback/hardcover books for you and all of your students, autographed and personalized with names if desired (a parent letter with ordering information will be provided)
-One student will win a free autographed hardcover of Our Class is a Family as a prize during the visit
What teachers are saying:
"I was curious as to what to expect from the visit. Shannon did an amazing job! She established a quick connection with my students and had a wonderful and engaging presentation. We had just finished up our first unit in writing and she talked to my class about the process of writing and publishing a book, allowing time for questions at the end. More importantly, she talked with my students about the value of having a classroom family and the message behind her book. It was such a treat to have Shannon visit with us. I look forward to having her visit again with future classes!" -Cheryl, 2nd Grade Teacher
"My students had an absolutely wonderful time with you today and are VERY inspired to become better readers and writers. It was so engaging the entire time and truly couldn't have been a better, more meaningful experience. You are AMAZING!" -Lani, 2nd Grade Teacher
"I have to tell you- my class is still quoting you! They're like, 'There's not a book for that??? Let's write it! That's what Mrs. Olsen would do!' I love it. Truly all that you shared has stuck with them! They honestly believe that they are authors through the lens you provided them. They also think authors are close to life friends because of your approach. You truly made a lasting impact!!!" -Lydia, 1st Grade Teacher
"One of the kiddos started crying after the meet because she just loved it so much and didn't want it to end. We talked after the meet about how they go through many of the same processes you talked about during writing workshop. It was wonderful!" -Cortney, 1st Grade Teacher
"We LOVED it!! Every teacher came up to me afterwards to tell me how great you were.  They were already asking me if you can come back again next year. They (and me too) were so impressed how you were really geared towards K and K appropriate, you got the kids up and moving, you included all the classes and gave everyone a chance to contribute.  But at the same time we were not surprised because you are a true teacher and know just how to do it!" –Jamie, Kindergarten Teacher 
"I really enjoyed how well planned-out and organized you were. It's also evident you've worked with young kids, since you had engaging brain breaks and cheers! We actually do classroom cheers, but you taught us some new ones! :)" -Natalie, 1st Grade Teacher 
"It was truly such an amazing experience for the kids and me. They had so much fun and it was so great how you broke down the whole process of being an author. We're doing opinion writing right now and a few of the students chose to have their topic be that in their opinion every class should have author visits. You had such a great impact on all of them." -Aschlyee, 2nd Grade Teacher
"The kiddos really enjoyed your presentation!! And the teachers as well! I wanted to share a text with you that I got from a parent: Danny was very excited about the author visit and said it was the thrill of a life and inspires him to be an author. Thanks for providing him with that experience!" -Tracy, 1st Grade Teacher
What students are saying: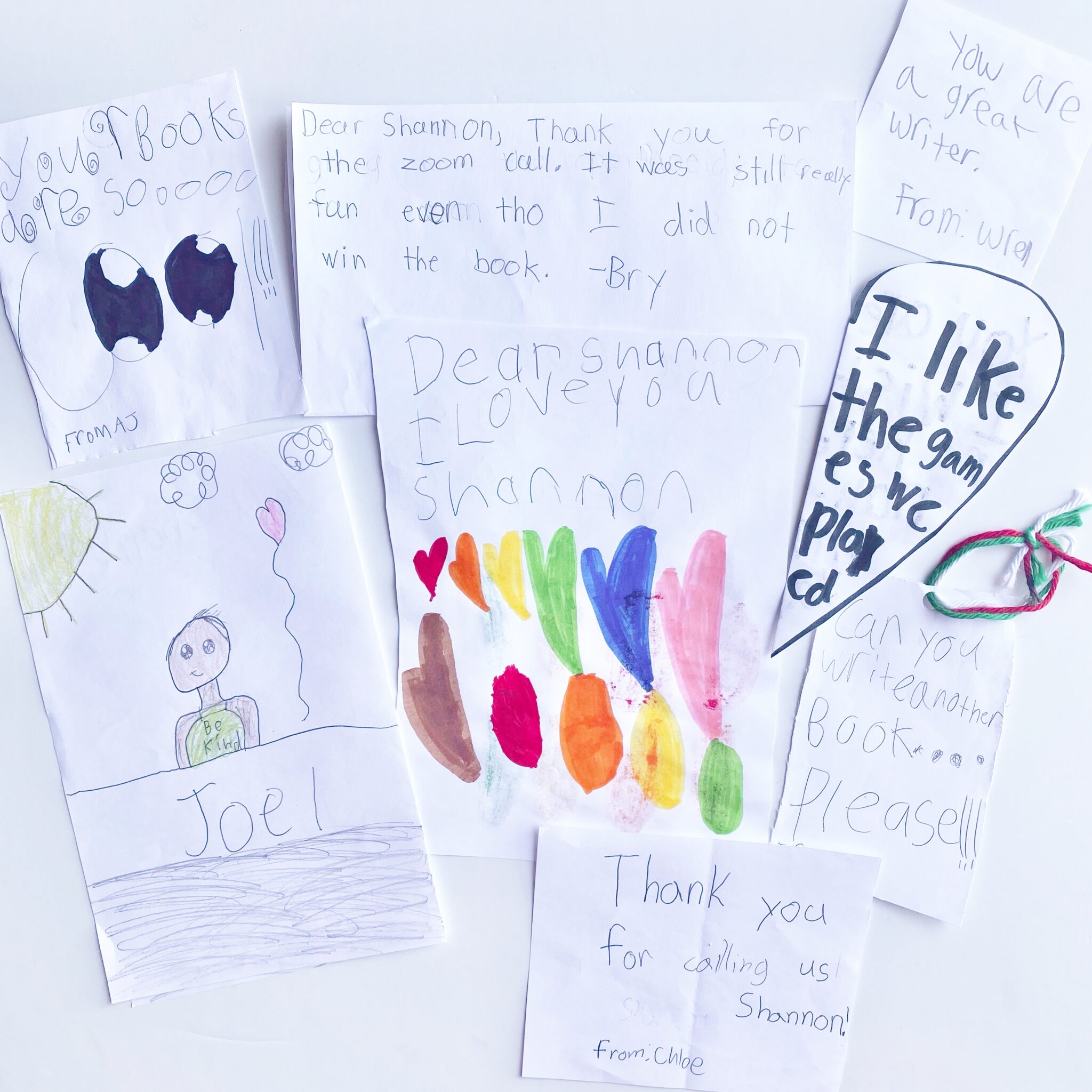 Virtual Visit Pricing:
One class: $99
*Multiple classes (grade level team): $149
*The multiple classes option is for one session. All classes will log into the same virtual meeting at the same time.
To book your virtual visit:
1. Go to the top of this page and select the number of classes that will be attending. 
2. Specify the grade level from the dropdown menu. 
2. Select an available date from the calendar.
3. Choose a start time for your visit (please note the time zones).
4. Click "Book Now" and go to View Cart & Proceed to Checkout to reserve your date.
Upon booking, you'll receive a confirmation email and information about how to order autographed books for your class. The email will also contain a Google Form questionnaire- please submit it at your earliest convenience to help me prepare for our visit. I will touch base with you again via email a few days before the visit to coordinate final details.
If you select the "Check" payment option when you book your visit, your spot will be reserved and your order will be temporarily placed on hold. Upon receipt of check in the mail, you will be emailed the Google Form questionnaire and autographed book order information.
If you need to reschedule or make a cancellation, please note the refund policy below:
Full refund: 2 weeks prior to the date of visit
50% refund: 1 week prior to the date of visit
In the event that a cancellation is made less than a week before the scheduled visit, no refund will be given.
IN-PERSON VISITS:
I am available for booking a limited number of in-person visits in the Orange County, California area. If you'd like to inquire about an in-person author visit, please do not book through the calendar above. If you can instead please fill out this interest form to be contacted via email, and I'll look forward to reaching out to you!
If you have any questions regarding Author Visits, please also make sure to view the FAQs tab. Thank you so much for your interest, and I hope to visit with your class family soon!