Moms. No one else really has a more important job on the planet than they do. I mean, here's the basic job description:
Which is why we definitely want to make sure to show them some love! Even though it's important to make moms feel appreciated every day, it's always nice to make them feel extra loved on Mother's Day. As elementary teachers, we get to play a special role in helping kids create those memorable keepsakes that many moms will hang on to and look back on. When their children grow older and possibly go through an unruly teenager phase, they just may need something to look back on fondly!
Every spring I do a "Morning with Mom" Mother's Day celebration. My students' moms come to spend the morning with us in the classroom. I have the kids serve their moms some breakfast treats and serenade them with a couple of sweet songs. We also spoil them with handmade gifts.
When it comes to Mother's Day presents, I've always felt that nothing really beats having the kids write about their moms. Kids come up with the sweetest (and often the funniest) things to say. No craft or store-bought item has the same sentimental value as the words that they come up with on their own.
That's why for one of the gifts, I have the kids write and illustrate a booklet all about their mothers. I don't know any mom who doesn't love the song "You Are My Sunshine" so this theme is sure to warm their hearts!
On the first page, the kids draw and color a portrait of their mom.
The next page is for them fill in fun facts about their mom (their guesses on height/weight never get old).
They also make their best guesses about their mom's favorite things. Unsurprisingly, coffee always seems to be a popular answer for favorite drink!
There are additional pages for them to respond to writing prompts about their mom and illustrate pictures for each.
It makes me so happy getting to watch my students read their writing to their moms as they sit on their laps at our Mother's Day celebration. You can literally feel the love in the room.
If written words from the kids are an invaluable Mother's Day gift, photographs are a close second. What mom doesn't love a memorable photo of her son or daughter?
To go along with the theme of the booklet, I take photos of the kids holding a sign that says "You Are My Sunshine." They make their own picture frames and we put the photo inside the frame.
I've had moms of past students with younger siblings tell me that they still have the frame on their fridge, desk at work, etc. It's just too cute not to save!
Our students come from all different kinds of family backgrounds and I never want a student to feel left out, so I also have inclusive gifts for those special mother figures in children's lives. The book has identical pages for a stepmom, grandma, nana, or aunt.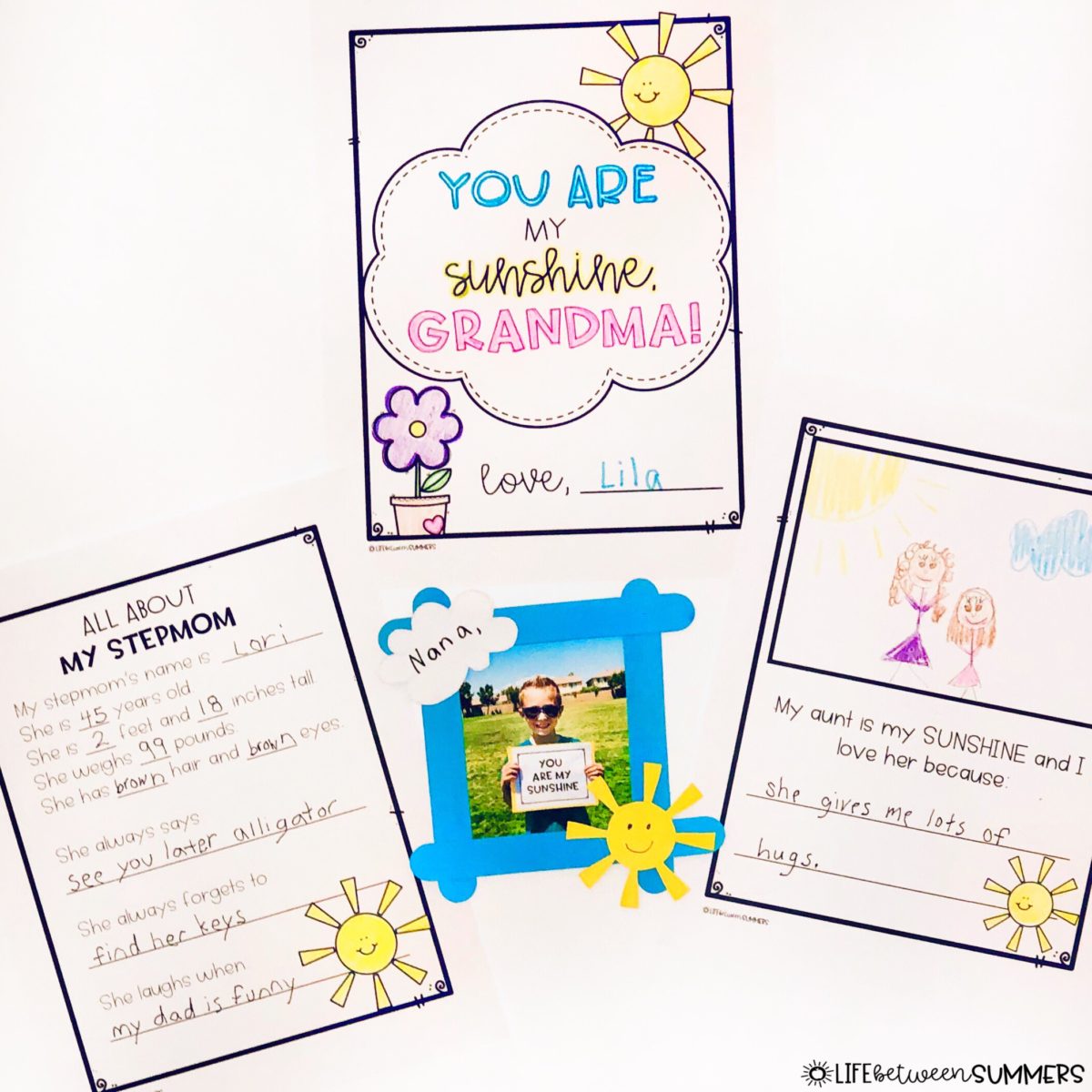 In past years, I've also used a similar book and photo frame, but with a ladybug theme. The book and photo frame say, "My Mom is a Special Lady."
If you'd like to have your students create either of these themed gifts for their moms this year, go to any of the links below to find them in my shop. You can bundle and save when adding on the inclusive gifts for stepmom, grandma, & aunt, or everything is also available separately. 
"You Are My Sunshine" theme:
Mother's Day "You Are My Sunshine" Book and Picture Frame Craft
Stepmom, Grandma, & Aunt Inclusive Mother's Day Gift: Sunshine Book and Frame
Mother's Day Gifts for Mom, Stepmom, Grandma, Aunt: "You Are My Sunshine" Bundle
"My Mom is a Special Lady" theme:
Mother's Day Ladybug Book and Picture Frame Craft
Stepmom, Grandmother, & Aunt Gift for Mother's Day: Ladybug Book and Picture Frame
Mother's Day Ladybug Book and Picture Frame Bundle
All of the above resources can also be found by searching "Mother's Day" in my TPT store. 
What are your favorite Mother's Day gift ideas? Do you have any student writing or photo keepsakes that you like to do each year?
Whether you're a mom yourself or just have wonderful moms in your life, I hope you have fun celebrating Mother's Day this year!