My favorite season is on the way, and given the name of my blog I'm sure it's no secret as to what that season is. The number one place that I associate with summertime is the beach, so having an ocean-themed bulletin board in my classroom just puts me in a good mood. If I can't take my work to the beach, I just bring the beach to me. My DIY palm tree is always a summery start, and it doubles as a cozy spot for students to read underneath.
For the past couple of years, I have created a "Math Beach" bulletin board next to our palm tree. It is a fun and bright display of the hard work my kiddos do in math with solving word problems using their addition and subtraction strategies. They write their own word problems to solve, and sometimes I give this assignment a little twist to encourage some higher level thinking. I provide students with the answer to the problem, and they have to come up with a beach-related word problem to arrive at that answer.
Students think up some pretty creative word problems to go along with the beach theme, and it is great to see the variety of strategies that they use to solve.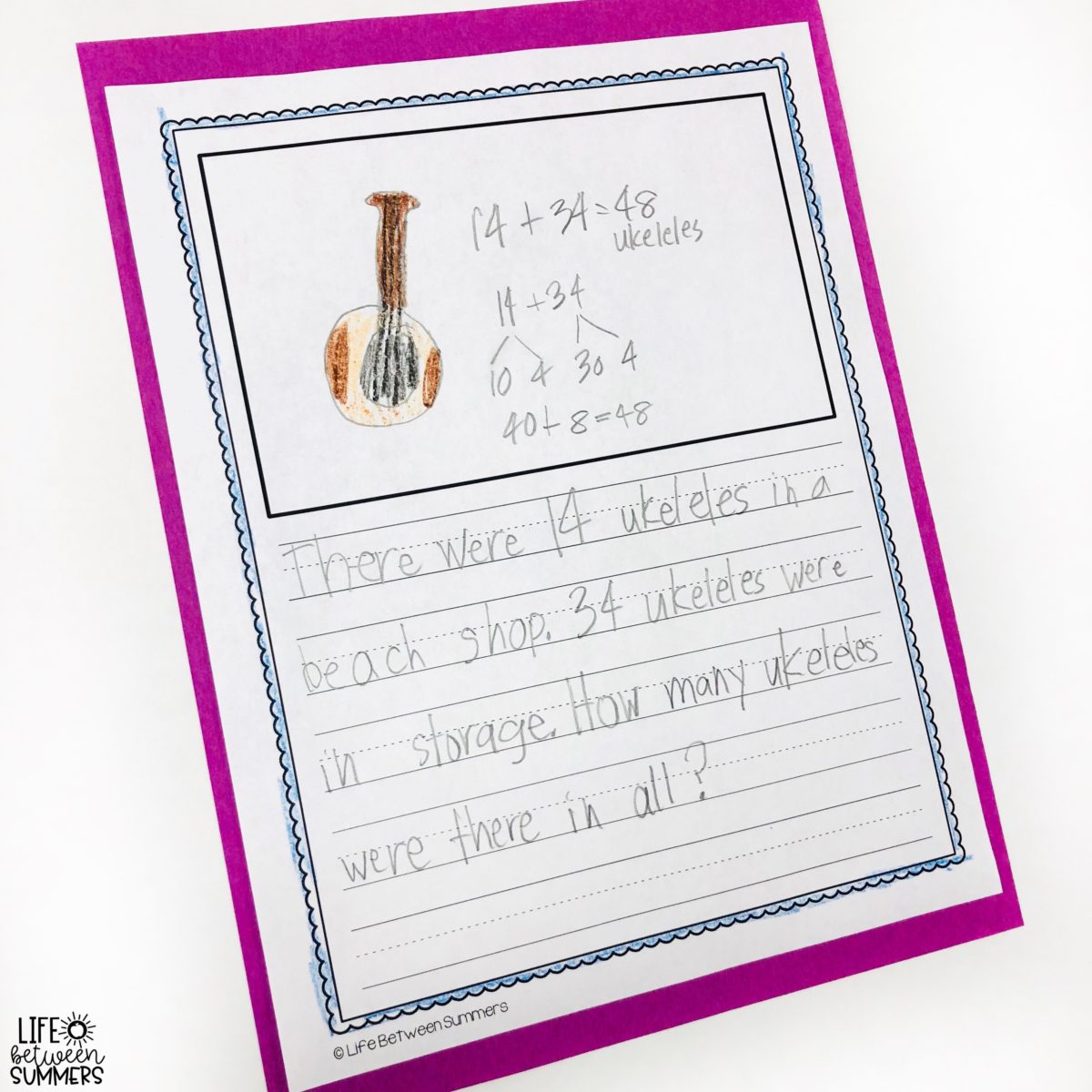 You could also differentiate and give certain kids a 1 digit or 3 digit answer to create a word problem for instead.
As we are "diving into problem solving," the kids get to do a fun craft to go with their word problems: a little mini snorkeler version of themselves! I display them on our beach board with their word problems.
I used this craft to accompany a math assignment, but it could really be used for any activity that's related to the beach, summertime, or the ocean. In the past for example, I've also used them to go along with the kids' narrative writing.
You can find the snorkeler templates right here in my shop. If you would like to include the problem solving activity signs as well as many different options for beach themed writing paper (for word problems, for narrative stories, etc.), you can get all of it here. All of this can also be found in my  Teachers Pay Teachers store.
I hope these activities help make summer feel that much closer…are you as ready to dive into break as I am?