Thankfulness and gratitude are some of the most important values to help instill in students. And the days leading up to Thanksgiving provide an extra opportunity to highlight these character traits in the classroom. One simple way to do this is to have your kids keep a Thankful Journal throughout the month of November! It is something that could be done on a daily basis, or just whenever you might need a little time filler. It doesn't take much time each day, and is still very meaningful.
I actually first created this Thankful Journal during the pandemic in 2020. A year when kids were having to go through a lot of their own challenges (just like adults). At the time, I was wanting to inspire my students that even during times of hardship, there is still always much to be thankful for.
Printable Thankful Journal
There is both a printable and digital version of the journal. Here is the cover for the printable one, which can be assembled into a simple booklet. I fancied it up a bit with a hole punch and some yarn, but it could also be as easy as just stapling the pages together.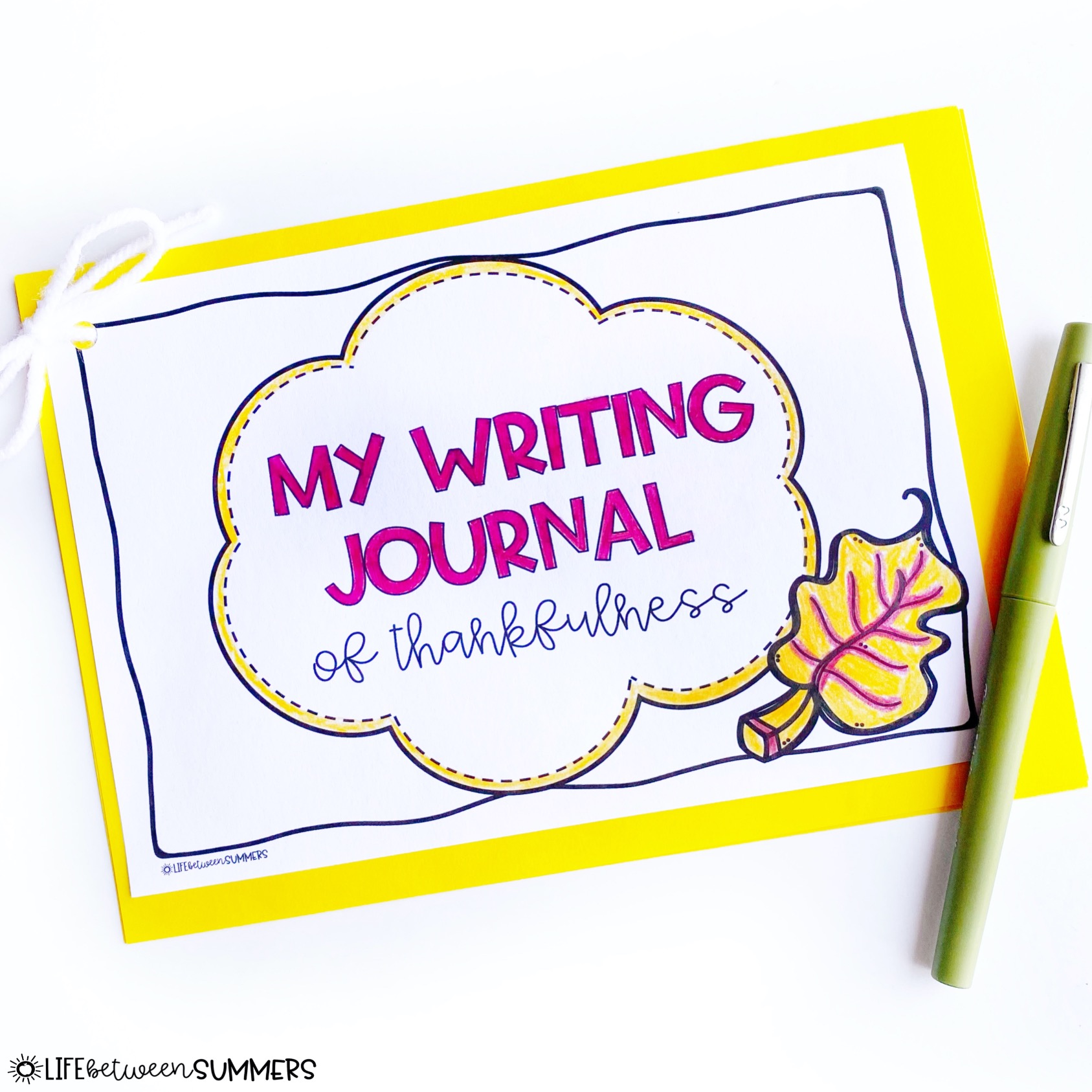 It comes with a title page for students to personalize with their name:
Each page contains a simple writing prompt about something to show gratitude for. Students can also illustrate a picture to go with their writing. There are 30 pages total, one for each day of the November. Even if you don't get to using every single page, it's always nice to have options!
Digital Thankful Journal
The digital Google Slides version of the journal has a similar layout. The difference is that students can type their response and insert clipart or an image (or use a digital drawing tool). It also comes in color, because why not?
Writing Supports
Using these pages as daily writing prompts, I anticipated that students' sentences might start to sound repetitive. To help encourage variety in their writing, I created this visual that the kids can refer to during journal writing time.
Where to Get the Resource
If this is something you would like to add to your plans for this November, the resource can be found in the shop on my website and also on Teachers Pay Teachers. It includes the printable and digital versions, and you have the option of regular writing lines or primary dotted writing lines for the booklets. It comes with the visual reference of sentence starters too.
And if you are in need of other writing activities as well for the month of November, you'll definitely want to take a peek at this engaging one: Turkey Disguise Opinion Writing & Craft. It helps hit some of the bigger writing standards, and the kids have a blast with it!
Thankfulness is obviously something to be expressed all year round. But Thanksgiving is naturally a time of year to help students find those extra moments of gratitude. It's always a nice little reminder for ourselves as well. I am personally thankful for teachers like you, who are always working hard and care so much for their students!