One of the best parts about teaching foundational multiplication skills in math is that there are so many opportunities for hands-on learning! Here are a few activities for students to practice repeated addition and making arrays.
Fall, Winter, and Spring Work Mats
Seasonal work mats are ideal for math centers or for kids who finish their work early. If you're doing distance learning, they're also great for student use at home. I've created mats that include space for building an array using counters and writing a number sentence to match. Here's one that's themed for Halloween:
You can also mix it up with ones where the kids roll dice to build arrays.
I know that Halloween activities are a no-go at some schools, so if you're in that boat, there are also these work mats with a non-Halloween fall theme.
And if arrays are something you teach in the winter or spring (or just want to review again later on in the year), kids love using these ones too.
Students can draw arrays on these mats with white board marker when laminated or put in sheet protectors, or they can build the arrays using any kind of counters.
The little mini erasers from Target are perfect to use as manipulatives, especially since they are fun and motivating to use…my students are obsessed with them! I'll admit I was also slightly obsessed with collecting them, because they were one of those "unicorn" finds that were rarely in stock on the Dollar Spot shelves at my local Target. So whenever I saw them, I grabbed them. If your Target doesn't often carry them either, the good news is that they now have them available online! You can find them here, or another option is to buy mini erasers on Amazon.
Once I started accumulating more erasers, I needed a more organized way of storing them, and the little storage boxes pictured above have worked out great. They often go on sale at Michaels, or you can use one of those 40% off coupons that they often offer.
If you would like your students to use these work mats and dice games for practice with building arrays, they are available individually or in a discounted bundle in my online shop, as well as my TpT store.
Fall, Winter, & Spring Work Mats & Dice Games Bundle
Array City
Another hands-on way for students to practice repeated addition is by making an "Array City." The kids really enjoy it, and it makes for a beautiful winter bulletin board. This could be easily adapted for any season…just swap out the black paper and snowflakes for blue paper and sunshine!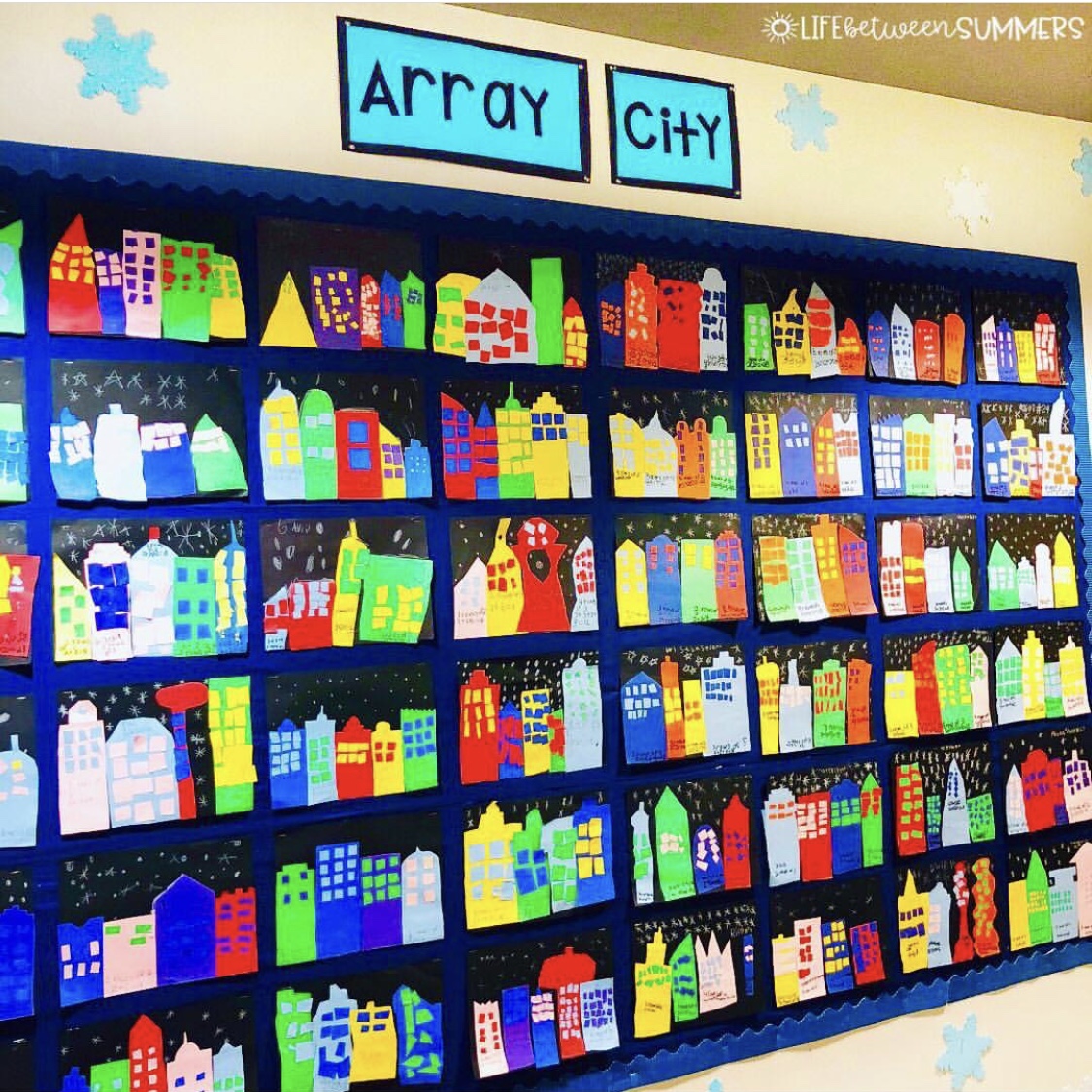 I hope these ideas have helped spark some inspiration for teaching early multiplication with your class!
P.S. Just in case you saw the bulletin board above and thought, "Wow, she has a LOT of students!" this was a hallway display for both my class and the class next door. Let's just say if I had 60 kids in my class, then "Disarray City" would be a lot more accurate!