Many teachers really focus on building classroom community at the start of school, but it's just as important during the messy middle!
When you're midway through the school year, that "freshly new" back to school feeling is long gone. Everyone (students AND teachers) can easily start to lose steam.
It's not uncommon to feel like winter break can't come fast enough.
In the meantime though, nurturing those positive relationships is what will really help you and your students power through!
Fortunately, the halfway point of the year happens to fall during the month of December. And there are tons of natural opportunities for building classroom community during the holidays!
If your class is in need of a midyear community-building boost, check out these holiday activities and ideas for your elementary classroom.
FESTIVE FRIDAYS
This is a fun, easy way to end each week on a happy note! Every Friday leading up to winter break, you can encourage students to bring a little extra cheer to the classroom by wearing their favorite holiday attire.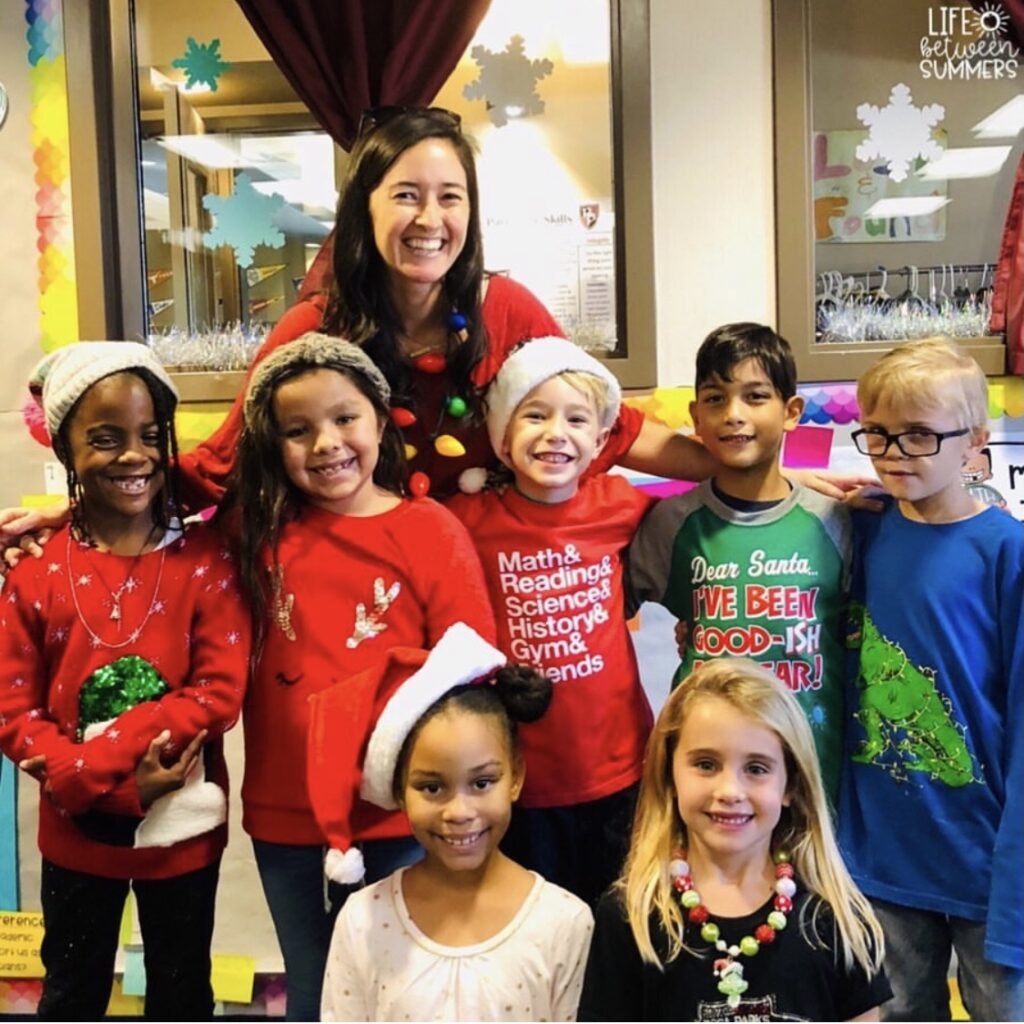 Some examples of items to wear:
Holiday sweaters
Christmas light necklaces
Snowmen socks
Santa hat
Reindeer ears
If you might be thinking that hats, etc. could be a huge distraction in class…well, you might just be a teacher, haha!
But speaking from first-hand experience, it can be a non-issue if you set the behavior expectations ahead of time. Any year I've done this with my own classes, I'd just remind them first thing in the morning: If you are playing with it instead of wearing it, then it goes into your backpack for the rest of the day. Simple as that!
You may also be wondering, What if I have a student who doesn't celebrate Christmas?
If that did pop in your head- first of all, cheers to you! It's wonderful that you value inclusivity in your classroom. You'll choose whatever works best for you of course, but in case it's helpful, I'll go ahead and share what I've done in the past.
Before implementing Festive Fridays, I would always find out ahead of time if it would make any students or families feel uncomfortable for any reason. It can be as simple as sending out a short and sweet email. Most families will appreciate your thoughtfulness!
If you have any students who don't celebrate Christmas, there are always alternatives. You could do Pajama Days on Fridays, or something like "Winter Wednesdays" instead. There's tons of fun to be had with snowmen, hot cocoa, and scarves!
Or simply skip Festive Fridays that particular year, because there are plenty of other community-building opportunities during the holidays! 🙂
But if it's a good fit for your class and you'd love to give it a go, here's a letter you can send home to inform parents and families!
Click here for the FREE editable template!
KINDNESS TREE
Here's an idea I absolutely love, and it's from Polka Dots Please!
The goal of a Kindness Tree is to encourage random acts of kindness in your classroom. All you need is an empty Christmas tree and a few ornaments.
Students get to add an ornament to the Christmas tree when they get caught doing something kind. Kids can also nominate each other if they see a classmate do a random act of kindness!
You could even save this as a get-through-the-last-week-before-winter-break activity. Since those last few days can often be peak time for crazier behaviors, you could turn it into a challenge to see if students can fill up the entire tree in one week!
CLASS FAMILY ALBUM
Did you start the year by reading Our Class is a Family to build classroom community?
If so, you might also have this Class Family Album (and if not, definitely worth checking out to go along with the book)!
This book companion comes with a ton seasonal themes, including a variety for the holidays and wintertime.
Print real photos or have students draw their own illustrations about the exciting things that they have been doing & learning about in class. They can also write a caption to go with it. It's a meaningful way for your class to document their memories together, and bond them together as a classroom family.
The entire Class Family Album resource can be found HERE in my shop, and Teachers Pay Teachers store.
THROW A PARTY
While there are tons of holiday activities to be had, it's hard to beat a good old classroom party.
Not only can parties help strengthen a positive class culture, but they provide an opportunity to extend to the community beyond the four walls of your classroom. Classroom parties are a great way to get students' families involved.
What can parents do at a classroom holiday party?
Help plan the party.
Lead the center rotations.
They could even dress up as holiday figures and come in to read to your students.
It's always fun when you can find a family volunteer who will come to the party dressed as Santa. The kids love it!
Keep reading below for more ideas that could easily be incorporated into a class holiday party, or other time of the school day.
HOLIDAY PHOTO BOOTH
Let's face it: we're a photo-crazy culture. Everyone loves a fun photo booth, especially a holiday themed one!
Photo booths are a hit for special days throughout the school year, including holiday parties. It's a fun way for the kids to bond, and capture memories too!
And I use the term "booth" very loosely. It doesn't have to mean staying up late at night, spray painting a refrigerator box to create an actual booth.
You can just provide some themed props and a simple backdrop for taking photos. It can be as low-prep as a blank wall or a sheet of butcher paper!
Get holiday and seasonal photo booth props for the classroom here.
PLAY HOLIDAY-THEMED GAMES
Whether in partners, small groups, or with the whole class- games are a great community-builder any time of year. Holiday games like Pin the Nose on the Snowman or Musical Chairs with holiday music are perfect for holiday parties, or whenever you need those brain breaks during December!
Bonus points if you can incorporate learning into holiday games at the same time. Winter-themed "Jenga Bells" Math Jenga for the win!
This holiday game contains problem solving and word problems for 0-20 addition and subtraction fact fluency. Plus, it's so versatile! Use it to spruce up your class holiday party or use it throughout the entire month of December as part of your math centers.
If you're ready to Jenga all the way, you can grab Math Jenga HERE in my shop or in my Teachers Pay Teachers store.
Or better yet– get savings when you grab the entire bundle of Christmas and holiday-themed games for math and language arts!
HOST A GIFT EXCHANGE
Gift-giving is a universal "love language" for a reason. It can definitely be another way of bringing your class together.
Some popular gift exchange ideas for the classroom:
Books
Bookmarks
Ornaments
Puzzles
You might also consider exchanging or giving a class gift to a person or organization outside of the classroom. For example, the class next door or a support staff member at your school (librarian, custodian, etc).
You could collect snacks to give to the local first responders or create holiday table decor for retirement center residents. While students won't leave with their own present, they will leave with the gift of giving…a meaningful way to come together as a class!
THE VERY BEST GIFT YOU CAN GIVE YOUR STUDENTS
Any thoughtful little trinkets are great, but the very best gift you can give your students is fostering an atmosphere of love, friendship, and acceptance. No matter what time of year, it's always a good time for building classroom community.
May the holidays with your class family be merry and bright!