It's been a doozy of a year, to say the least. I'm willing to bet you might be ready to say good riddance to 2020 and never look back. If you'll hear me out though, I do believe there's always something to be said for reflection, even on a "let's just forget it ever happened" year like the one we've had. With challenges come lessons and takeaways, and we want kids to learn that going through tougher times makes them stronger. As we approach the new year, it's an opportunity for students to reflect back on their struggles, successes, and growth.
About this same time last year, I had my kids do this "2020 Vision" writing craft (it was also in my TPT store, so some of you may have even done it with your students too):
Back then, last year's class wrote what their vision was for the upcoming year, setting goals and resolutions.
I now have a new activity for a new set of kids, and it has a similar feel to last year's craft. It still has the sunglasses, and still has a play on words for 2020.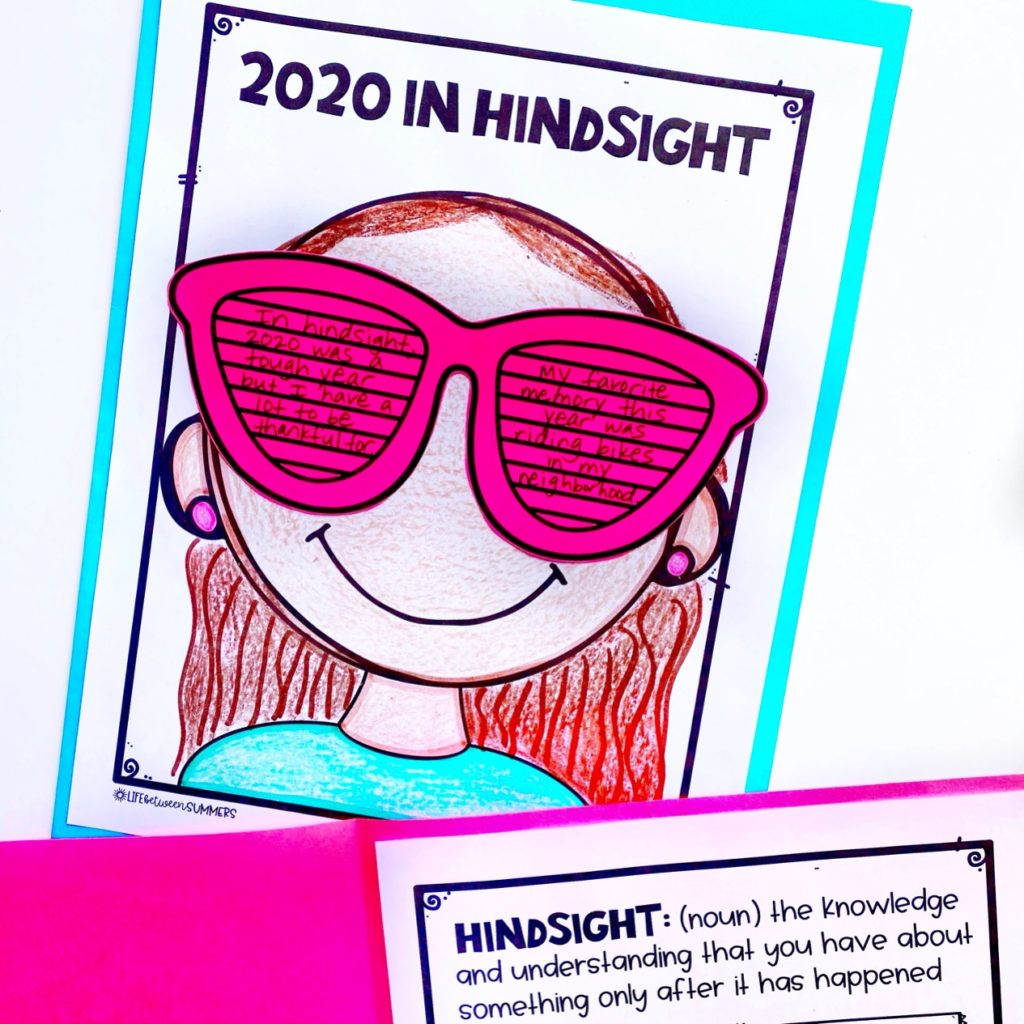 Instead of goal setting for the new year, this is a reflection activity for students to "look back" on 2020. The template pictured above can serve as the cover for a booklet with additional writing pages inside.
If you're back in the classroom teaching full time or hybrid in person, this would also make for a great end of the year bulletin board. I've included 4 different style options of bulletin board letters with the resource. Here's a sample of one of the options:
I didn't want anyone who is doing distance learning to be left out, and so I've also included a digital Google Slides version. It comes in color, with various options for different skin tones and hair colors. The kids can type their responses right onto the slides for both the sunglasses and the additional writing prompts.
If you want to give this a go with your class, you can click here or on the photo below to get the resource here in my online store. It's also available on Teachers Pay Teachers.
And if you'd like to follow this up with a more traditional goal setting New Year's activity in January, make sure to check out my 2021 balloon writing craft.
As you help your students reflect back on their year, I hope you're able to look back on your own year with some valuable takeaways for yourself as well. Maybe it's lessons learned, blessings to count, or simply realizing that in 2020, you made a positive difference in the lives of students in a way that's never done before. And in hindsight, that's something to look back on and be proud of.