Sometimes when people hear the word "crafts" at school, they assume that kids are just doing art. It is true that they are creating a piece of artwork, and using their fine motor skills in the process. But when combined with skills such as writing and grammar, crafts can also be an engaging and powerful learning tool.
I've always loved grammar crafts for language standards. That love of crafts is even more magnified after enduring all of the virtual learning during the pandemic. Education trends frequently change and the world is becoming increasingly digital, but hands-on learning should never go out of style. There will always be value in having young kids create with pencil, coloring utensils, scissors, glue, and paper.
Speaking of which, another association that people may have when they hear "crafts" is materials (as in needing a lot of them). It is true that many craft projects come with a lengthy prep list. But crafts can be incredibly simple too. Oftentimes, they could be made with basic materials that are already at your disposal in the classroom.
Here are a few ideas for these kinds of simple grammar crafts, for every season of the year! And while they are in fact a work of art, they also provide kids with meaningful practice in various language skills. Each one also comes with supplemental activities that are engaging for students.
Fall Craft for Multiple Meaning Words
This bat grammar craft helps students with identifying homonyms, or multiple meaning words. It also provides them practice with using these types of words in the correct context.
The image of the bat ties in nicely right around Halloween time. You can also incorporate other fall-themed multiple meaning word activities.
The template for the bat craft, along with the other activities pictured above, is available in the shop on my website or in my store on Teachers Pay Teachers.
It is also included in a couple of discounted bundles that include ALL of the crafts I'll be sharing below. You can scroll down toward the bottom of the page for those links, under the heading, "Bundle and Save."
Winter Craft for Compound Sentences
This next craft for wintertime is a way for kids to learn how to expand short, simple sentences in their writing.
Give each student two simple sentences on stick arms (or blank stick arms if you would rather have your students come up with their own simple sentences to write). The kids then combine those to create their own compound sentence. They can circle the conjunction that makes the most sense to join the two sentences together, and write their new sentence on the bottom part of the snowman.
The template for this craft can be found right here on my website or on TPT.
For lessons and activities you can do to supplement this craft, click here or on the image below.
Spring Craft for Plural Nouns
This one makes a huge difference in helping to improve students' spelling and their understanding of plural nouns. And it makes for a lovely spring bulletin board too!
Students write a word on each raindrop that demonstrates one of the 5 main grammar rules for pluralization. A fun way to teach these rules is with a poem (which is aptly named It's Pouring Plurals). Click here or the image below to learn more about the poem and additional lesson ideas for plural nouns.
And here is where you can get the actual resource:
Plurals Spring Activities on website
Plurals Spring Activities on TPT
Summer Craft for Compound Words
And now for some sunshine after the rain! Students can create this sunny craft to practice identifying the meaning of compound words based on their two individual words.
When students find connections in different compound words that share one of the same base words, it really helps them determine various word meanings. For example, have them take a word like "day" and analyze the differences in meaning between words in the same compound word family (daylight, daydream, daycare, etc).
This craft can be supplemented with all kinds of activities, which you can find right here or by clicking the image.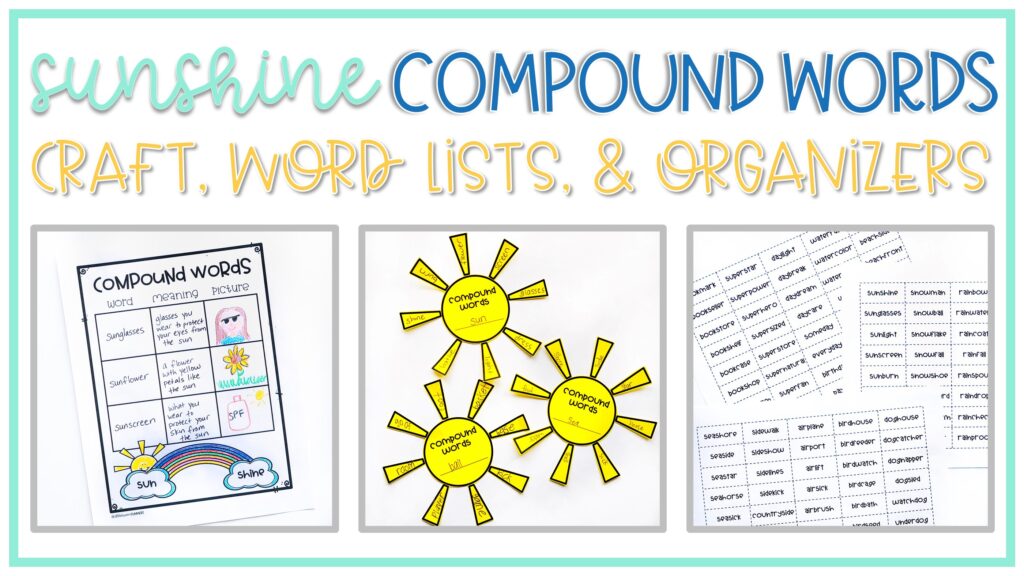 You can access the resources for the craft and additional activities in my Teachers Pay Teachers store, and also in the shop on my website: Sunshine Compound Words: Craftivity, Word Lists, & Graphic Organizers.
Homophones Craft for Any Time of Year!
Pears aren't quite as seasonal as other items, so here's a bonus grammar craft that you can add into the mix any time of year!
This is a simple way for students to identify homophones, words that sound the same but are spelled differently. The crafts could be displayed on a bulletin board with an anchor chart.
The templates for this craft and the anchor chart are in my website shop and on TPT too. You can also find more ideas for teaching homophones in this blog post, or by clicking the picture below.
Bundle and Save
You get a good deal when you grab all of these crafts/activities together in a Grammar Crafts Growing Bundle. I plan to add more to these bundles in the future, so any newly added resources would be free after your initial purchase.
There are two bundle options:
Option 1: One bundle includes all of the crafts I shared above for fall, winter, spring, and summer, plus the bonus Pairs of Pears homophones craft.
It's here on my website and in my TPT store.
Option 2: This MEGA bundle includes all of the crafts in Option 1, plus all of these seasonal crafts for another important grammar skill, shades of meaning.
This MEGA bundle is also in my website shop and TPT store.
Get Crafty!
Before I sign off, let's just circle back to the grammar skill from the first craft I shared: multiple meaning words.
One particular multiple meaning word that comes to mind here is crafty. As I mentioned earlier, getting crafty in the classroom can in fact refer to art projects. But teachers also have to get a little "crafty" when it comes to making learning grammar more fun, if you know what I mean! I hope that any or all of these crafts are helpful for your students in doing just that.