Teachers do so much more than teach academics. Social emotional learning is arguably even more important than academic education, because success in the latter depends on the former. Kids learn best in an environment where they feel safe, loved, and accepted.
As we know, this sense of classroom community doesn't magically happen on its own. It's not as though it's instantly there when kids show up in those seats on the first day of school. The teacher is the one who sets the tone and starts laying the bricks for that foundation that last until the end of the school year.
Starting a Community on Day 1
One of the main bricks I like to put down from the very beginning is to tell the kids that our class is a family. The word "family" is written on the postcards I send at the beginning of the year, and also the little keychains I give them on the first day of school to put on their backpacks.
We talk about how they have their own families at home, of course, but that at school we are another special type of family. Families care about each other, support one another, and have fun together! They also make mistakes together and help each other grow. I tell them that even though we're not related, we do get to spend a lot of time together, and so we want our classroom to be like a home away from home.
Using a Read-Aloud Book to Build a Community
When introducing any new theme or idea to your class, a read-aloud is always a good go-to. If you're starting a new unit on animals, for example, you might choose a favorite animal picture book and read it to the class to help get them in the right mindset.
So when introducing the concept of class community, it makes a lot of sense to have a read-aloud too. That was my inspiration behind writing the book Our Class is a Family.
My hope is that this read-aloud book will help teachers strengthen the bond they have with their students, and that their students have with each other. The issue of children's mental health is more important than it's possibly ever been, and so my other major hope for the book is that it might help more kids feel a sense of belonging at school.
The beginning starts out by connecting to kids' prior knowledge about what a family is.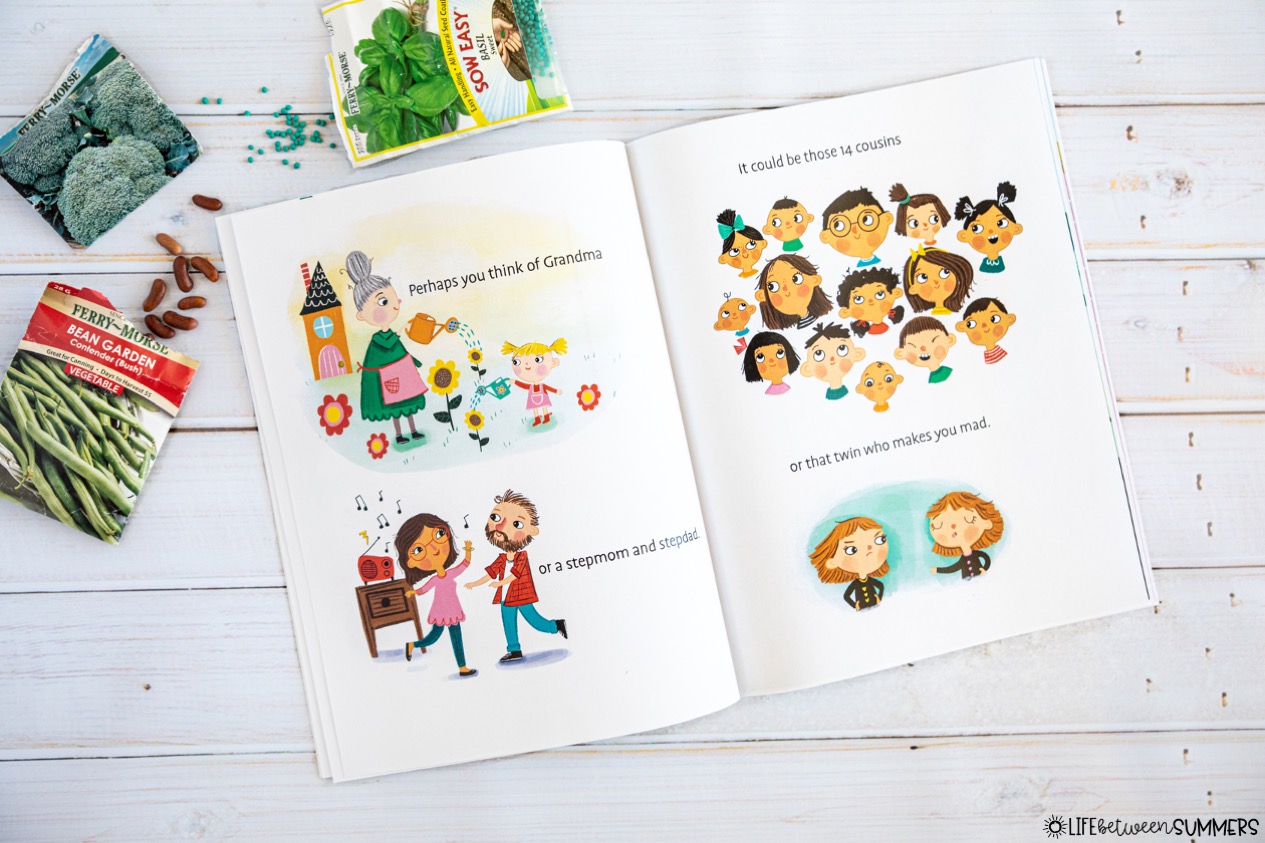 The next couple of pages go on to explain that family doesn't always mean relatives. This also happens to be one of my favorite illustrations. I envisioned bright, colorful pictures to go with the words, and the talented Sandie Sonke couldn't have captured that vision any better.
Creating a Family of Learners
The pages that follow go into more detail about what it means to be a family of learners. Several aspects are touched upon, such as embracing similarities and differences, being a good friend, and having a growth mindset. I won't share the whole book, but given the current global situation, I did want to go ahead and share some insight about specific parts that focus on the actual classroom itself as a place.
Fostering Class Community while Distance Learning
On account of COVID-19, a lot changed from the time this book was written to the time it was published. The phrase "class family" took on a whole new meaning during distance learning.
I read the book with my own students over Zoom video conferencing at the end of the 2019-2020 year. We had a discussion about how home (and a classroom) is not just a place, but a feeling. Even when you are not actually in the same room as your family, you're still a family.
I conveyed to my class that social distancing was just one extreme type of "weather" we were all going through, but that didn't change the fact that we were still there for each other.
Class Family Book Companions
Whether you're doing virtual learning or are back in the classroom, an extension activity is always a great way for students to reflect on the book and make further connections. One idea is for your students to create their own Class Family Album! There are both printable and digital options for this, and ways for it to be utilized throughout the year as a writing center.
This book companion can be found here in my shop or on Teachers Pay Teachers, and you can read more details about it in this blog post.
If you are a dual language teacher, there is also a version of the book (and the Class Family Album resource) in Spanish and French!
Click below for the translated read-aloud book and resources:
Our Class is a Family book in Spanish
Class Family Album resource in Spanish
Our Class is a Family book in French
Class Family Album resource in French
And if you'd like an activity to go with the book specifically at the end of the year, you might also want to check out these Class Family Memory Books. They help encourage students to reflect back on their school year, and the kids can take them home with them as a keepsake.
Just like the Class Family Album, these memory books are also available in my web shop and TPT store. You can read more details about them right here in another blog post.
Class Family Bookmarks
After reading aloud the book to your students, you might choose to tie it in with back to school or end of the year student gifts. These bookmarks are super easy to print, copy, cut, and give out to your class family.
You can grab them here in my shop or in my TPT store. Or if you'd like a FREE download of these bookmarks, you can join my email list and they'll be sent right to your inbox! The bookmarks are available in Spanish and French too.
Virtual Author Visits
And in case you might be interested in a special experience for your students after reading the book, I'm excited to announce that I'm now offering virtual author visits! I LOVE getting to meet with classes to help encourage class community and to talk all about the writing and publishing process. You can get all the info and book a visit for your class or school right here on my website.
Ordering the Book
Wondering where you can get the actual book itself? If you'd like to make Our Class is a Family an addition to your classroom library (or maybe want to gift it to a special teacher), you can get the best deal on paperbacks and hardcovers by ordering directly through my website. Get extra savings on bulk orders, and shipping is free! Click here to order on my site. The book is also available on Amazon.
You might also like to check out my brand new book, A Letter From Your Teacher: On the First Day of School! While Our Class is a Family focuses on class community as a whole, this one zeroes in on the special connection between teacher and student.
Teaching with Love
Parents say it takes a village to help raise a child, and teachers are among the chiefs in that village. Sure, we teach kids how to read and write, but we are also coaches, counselors, and behavior management specialists- just to name a few of the roles not explicitly spelled out in the job description.
When it comes down to it though, the most important job we have is to make our students feel loved. Over the course of a regular school year, children spend more time with their teacher and peers than they do their own parents and siblings. From one teacher to another, thank you for all the hard work you do to build those relationships and make the most of that time.