As the school year comes to a close, many teachers find themselves Googling easy, low-prep end of the school year activities…and perhaps reaching for more coffee. The end of the year gives teacher tired a whole new meaning!
So in case it might help save you any time or energy (two things that teachers have much less of as it gets closer to the last day of school), I have compiled a list of my 10 favorite end of the year activities right here in one spot.
#1 Summer Countdown
Are you even a teacher if you don't have a countdown? All jokes aside, a summer countdown is always a fun way to get students (and yourself!) excited for the end of the year. This can also help some students who don't love change begin to prepare for that transition.
Here are just a few ideas for countdown themes, perfect to display on your classroom door or a bulletin board:
Flower Fun
Pick a petal off the flower on each passing day.
Balloon Pop
Pick a student to pop a balloon daily (this could be a good positive behavior incentive during those last couple weeks). Another option is to put a strip of paper inside each balloon with a prize, fun activity, or to announce themed days coming up (board game day, pajama day, etc.)
Get the Scoop!
Display numbered ice cream scoops and "eat" them in the days leading up to the last one. You could throw an ice cream party when you reach the end!
Countdown Alternative
If you'd prefer something other than a countdown for door decor or other end of the year display, you could have your class reflect back on their favorite memories from the year. After brainstorming and sharing, have each student jot one of those memories down on a sticky note.
Arrange the sticky notes together on chart paper in any sort of collective shape or theme. For example, one year my class theme was hot air balloons, so we created this one:
You could use sticky notes that come in a shape other than a square, or just use die cut shapes or paper cutouts for students to write on. Kids love reading all of their special memories on the door or the wall during those last few days or weeks!
#2 End of the Year Read Alouds
End of the year read alouds are a great way to continue practicing reading skills, while also giving students time to reflect on their school year. You can pair all kinds of activities with these mentor texts. Here are a couple of go-to ones:
Our Class is a Family: This is a book that many teachers read during back to school time, but it takes on a new, special meaning at the end of the year! It can amplify the sense of community that your class has built together over the course of many months.
A Letter From Your Teacher: On the Last Day of School: This read aloud helps express your own well wishes to students as their teacher. Even when they'll no longer be in your class, your kids will be comforted in knowing that you're still cheering them on and would love for them to come back and visit you.
#3 Mailbox Keepsake
Here is a simple yet powerful last week of school activity. Creating a keepsake from the school year helps students say goodbye in a positive, meaningful way.
This mailbox activity pairs nicely with one of the books I shared above, A Letter From Your Teacher: On the Last Day of School. Students get to decorate their own mailbox. Then, have students write a "letter" (a short note, similar to a yearbook signing) to each person in the class.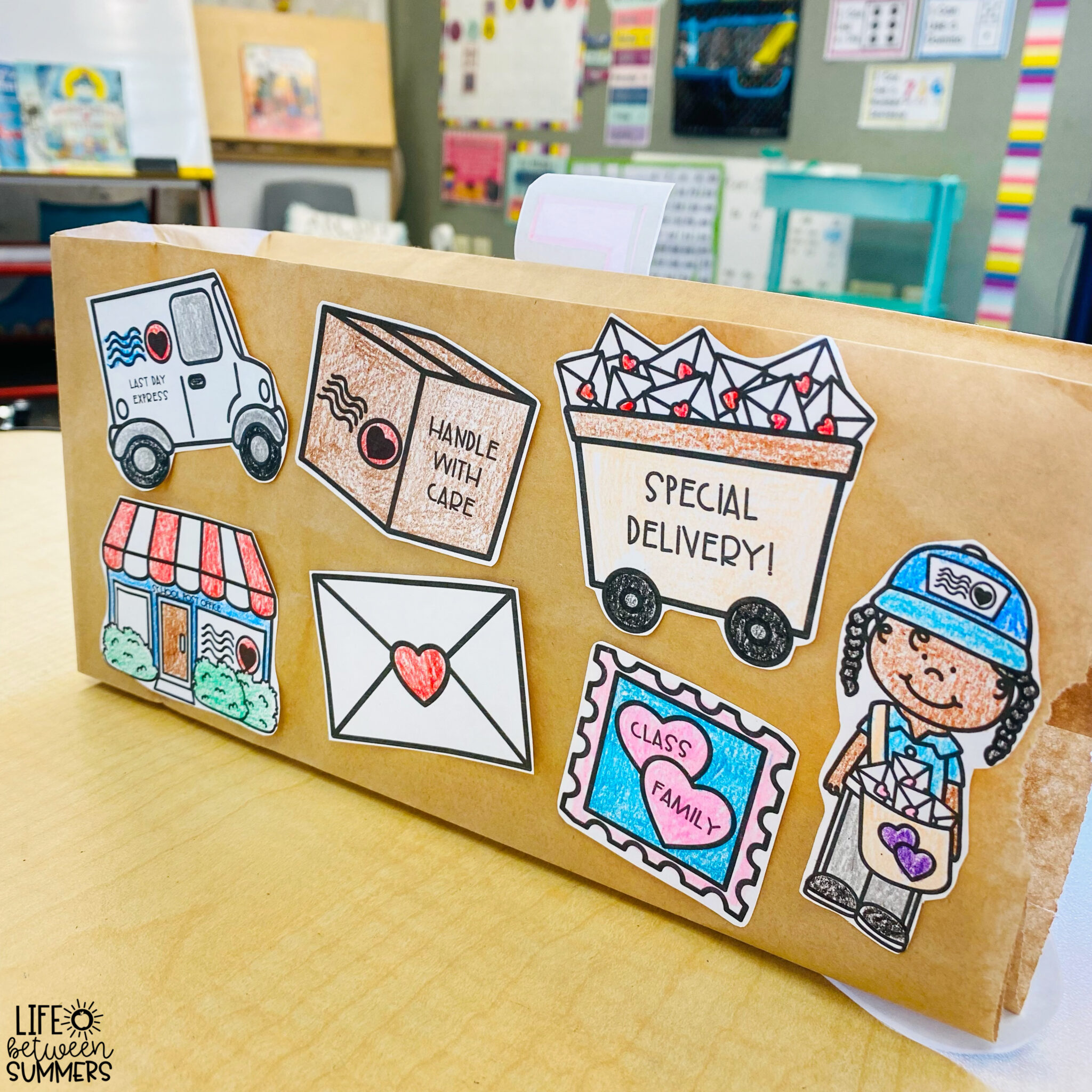 These "letters" can be short and sweet. Brainstorm ideas together as a class, and provide students with a few prompts:
Write about memory with that person.
Give a compliment to him/her.
Tell that person why you will miss them.
Students can pass out their letters to each other on the last day of school, and then take them home in their mailboxes as a special memento! You could also put a special "letter from your teacher" in each of the mailboxes too.
If you'd like to use these same templates, which come with differentiated cards for various writing abilities, they're right here in my shop and on Teachers Pay Teachers.
#4 Class Family Circle
This no-prep social emotional activity couldn't be simpler, yet it makes a significant impact during those last days of school! Have the class sit in a circle. Then, go around the circle and have students answer a reflection question. Here are some example discussion topics:
Share your favorite memory from the school year.
What was your favorite project?
Did you have a favorite spirit day?
Which day was the most fun?
If you happen to have a microphone, this is the perfect time to use it! Not only do the kids love speaking into it, but it can be used as a talking piece for classroom management purposes. Only the person holding the microphone is allowed to speak, and it is everyone else's turn to listen.
It leaves everyone feeling warm and fuzzy, and gives students some bonding time as they reflect on their school year together.
#5 We're All Connected
This activity is similar to the class family circle, but with a hands-on twist. One student says a compliment about a classmate, and passes that student a ball of yarn, still holding onto their end of the string. Keep sharing and passing the yarn until every student has had a turn. By the end, you will have a web between your students, symbolizing how you are all connected to one another.
Talk with students about how you are a special family who has supported each other throughout the year. Even when you eventually part ways, you will always have a shared connection.
#6 End of the Year Games
Games are a hit with kids any time of the year, but especially ideal in those last few weeks when you might be able to make room for a little more fun! Jenga is always a crowd favorite.
This version for the end of the year is editable, and it's in my shop and TPT store. Not only does this game have a high engagement factor, but it also gets kids reflecting back on the school year in a thoughtful way and practicing those ever-important speaking and listening skills.
#7 Memory Books
A memory book is a classic keepsake for students to create and take home on the last day of school. There are all kinds of memory books out there, and this particular one fosters the class community that you've built all year. It's ideal to have students make after reading aloud Our Class is a Family.
This memory book comes with several template pages that allow students to capture all the highlights from their school year. They can respond to writing prompts all about their favorites, their teacher, and of course, their class family.
#8 Party Time!
No better way to close out the year than with a good ol' party! Plan a fun end of school year party to celebrate with students. Here are a few last day of school party themes to get the ideas flowing:
That's a Wrap – Candy themed party
This Year was Poppin' – Popcorn and a movie party
Have a Ball this Summer – Beach themed party
If you want to make your class party super memorable, set up a photo booth for students to take some last day of school pics with their buddies!
You could throw in some photo booth props, including these signs, to make photo-taking extra memorable! Parents also love when you send these photo booth pictures their way.
#9 Special Signings
As a last day of school activity, students enjoy signing their names for each other. You can have students sign on an object that goes with your party theme, such as a beach ball or printed popcorn pieces. At the end of the day, let students take their object home with everyone's signature!
Another great alternative (and a sneaky way to encourage summer reading) is having students sign the back of a bookmark.
If you like the ones pictured here, these printable bookmarks are free to download. If you wanted to spruce them up, you could back them on cardstock, laminate them, or even add yarn or a tassel to the top.
#10 Mail Postcards
Who doesn't love unexpected snail mail? Even after the school year is over, send students a postcard to let them know you are thinking of them. Pro tip: you can create these during the school year – no need to work during the summer!
In case it helps save you even more time, I have tons of premade postcard templates. Simply print from home, or send them to a print shop. Here are just a few!
Cheers to a memorable year!
I hope you might have found a useful idea or two that you can try with your students at the end of the year! As much as teachers love summer break, we also know that saying goodbye is bittersweet. Soak up those final moments with your class, and enjoy making end of the year memories together!